.

See Bottom of page for Ordering Instructions
Definitions

"Kangen Water" (pH 8.5, 9.0 and 9.5) Alkaline water for optimal hydration and quick absorption.

Neutral Water (pH 7.0) Clean water free of chlorine, odor, rust, and impurities.

Acidic "Beauty" Water (pH 6.0) Acidic water with astringent and cleansing effects.

ORP: Oxidation Reduction Potential, the tendency of a chemical species to acquire electrons and thereby be reduced

. This is how anti-oxidants work.

ORAC Score: short for Oxygen Radical Absorbance Capacity, a measurement of the total antioxidant power of foods and other chemical substances.

Leve
LuK SD 501
-
$3,980
- by Far Our Most Popular Product
Ionizing Chambers: 7
ORP Range: -300mV to -600mV
pH Range: 2.5 - 11.5
Up to 2 Gal/Min
Activated Carbon pre-filter
Warranty: 5 years
Notifications: LCD and Voice Prompt

LeveLuK SD 501
PLATINUM
-
$3,980
Ionizing Chambers: 7
ORP Range: -300mV to -600mV
pH Range: 2.5 - 11.5
Up to 2 Gal/Min
Activated Carbon pre-filter
Warranty: 5 years
Notifications: LCD and Voice Prompt
Leveluk SD501U -

$

4,980
Ionizing Chambers: 7
ORP Range: -300mV to -600mV
pH Range: 2.5 - 11.5
Up to 2 Gal/Min
Activated Carbon pre-filter
Warranty: 5 years
Notifications: LCD and Voice Prompt
The under the counter unit:
Enjoy the quality and power of the SD501 right at your kitchen sink - without sacrificing counter space! Simple to operate with the fully featured compact LCD wall-mounted control panel!

Kangen® 8 -

$

4,980
The Kangen® 8 is now Enagic®'s most powerful antioxidant machine - featuring 8 platinum-dipped titanium plates! This additional electrode plate increases the electrolysis surface area, improves water ionization, and heightens the antioxidant production potential.
The Kangen® 8 boasts many new & convenient features:
Plug & Play - No More Switches!
Worldwide Multi-Voltage Power Supply, with Interchangeable Plug Capability
10 Second Automatic Cleaning
On-Screen E-Cleaning Instructions
Automatic Filter Sensor - No More New Filter Reset!
Energy Saving - Low Input, High Output
Auto-Off, Auto-On
Large Full Color LCD Touch Screen Panel
8 Language Display & Audio
Capable of producing 5 types of water:
Strong Kangen Water (11.0 pH)
Kangen Water (8.5, 9.0, 9.5 pH)
Clean Water (7.0 pH)
Acidic (Beauty) water (6.0 pH)
Strong Acidic water (2.5 ph)
LeveLuK R - $1,480
The "Starter Model"
Ionizing Chambers: 3
ORP Range: -150mV to -300mV
pH Range: 6.0- 9.5
Up to 2 Gal/Min
Activated Carbon pre-filter
Warranty: 3 years
Notifications: LCD and Voice Prompt
LeveLuK DX II
-
$3,280
Ionizing Chambers: 5
ORP Range: -200mV to -400mV (drinking water)
pH Range: 2.5 - 11.5
Up to 1.8 Gal/Min
Activated Carbon pre-filter
Warranty: 3 years
Notifications: LCD and Voice Prompt
LeveLuK Jr II
-
$2,380
Ionizing Chambers: 3
ORP Range: -150mV to -300mV (drinking water)
pH Range: 2.5 - 11.5
Up to 1.3 Gal/Min
Activated Carbon pre-filter
Warranty: 3 years
Notifications: LCD only. No voice.
LeveLuK Super 501
-
$
5,980
Generally for commercial use: Restaurants, food industry, medical buildings. Anywhere that high flow needs must be met or for those who want the very best.
Ionizing Chambers: 5 + 7 = 12 total!
ORP Range: -300 to -600 (drinking water)
pH Range: 2.5 - 11.5
Activated Carbon pre-filter
Warranty: 3 years
Notifications: LCD and Voice Prompt
World's first twin electrolysis machine! All 12 plates are used to clean the water, then 5 are used to generate the Kangen drinking waters.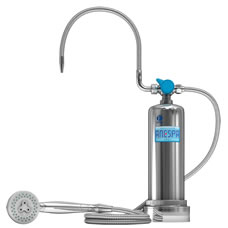 ANESPA -

$

2,390
Your home spa system with Mineral ion water activator.
The ANESPA removes nearly 100% chlorine and bacteria from your shower and bath water. Its dual cartridge system contains therapeutic ingredients that have a relaxing hot spring effect. The water is broken down into smaller clusters which makes it easier for your body to absorb the healthy and clean ANESPA water.
Highly-effective against skin-deterioration and freckles. Protect your delicate skin from the harmfull effects of tap water. Active charcoal filter Futama-ceramic inner filter.
How the ANESPA Creates Mineral Ion Water.
1. External Filter
The first task is to filter out harmful components of the water: chlorine, trihalomethanes, phenols, sediment, odor, taste, and organic waste.
Enagic's water makers achieve this by the use of a multistage activated carbon filter containing antibacterial granular activated carbon and Calcium Sulfite.
2. Neodymium magnet
This high quality magnet can decompose the water molecules into smaller clusters to activate the water and change the water to slightly stimulated water. At the same time, it helps the water to better absorb minerals.
3. Ceramic cartridge
The cartridge has a layer of ceramic filling. The layer of ceramic filling is about 3 times thicker than other products on the market. Ceramic balls of both Futumata Radium Hot spring and Chikutan are comfortably filled in a single cartridge.
4. Relaxing water
The ANESPA creates abundant flow of hot water: 15 liters (4 gallons/minute) per minute. The massaging shower head adds to the relaxing effect.
How TO Order
Because we have various models, payment options, financing plans, pick up locations, referral programs, and state tax requirements, we need to gather a bit of information so that we may efficiently serve you.

Please fill out this short form below, or just call us today.

We will gather all related paperwork and forward to you.
Mon-Fri 9-5 PST (12-8PM EST)
We will do our best to get back to you the same day, otherwise the next day at the latest. Call to speak with us now!
More Information
Disclaimer: These statements about Kangen, Kangen water, water filtration techniques, etc... have not been evaluated by the Food and Drug Administration. The information contained here is not intended to diagnose, treat, cure, or prevent any disease. Suggestions and ideas presented in this document should not be interpreted as medical advice, meant for diagnosing illness, or for prescriptive purposes. Readers are encouraged to consult their health care provider before beginning any "alternative" protocol. The information in this document is not to be used to replace the services or instructions of a physician or qualified health care practitioner. Kangen water. See also: water filter, ozone water, structured water.